Chicken skin is delicious, but it has a bad rap in the health world. Can you have it as part of your keto or low-carb diet?
Chicken skin is keto and low-carb friendly because it contains no carbohydrates. In fact, chicken chips are now sold in many stores, making them a convenient snacking choice if you're limiting your carb intake.
Do different methods of cooking matter, and how many grams of fat, protein, and carbohydrates does chicken skin contain? Read on to discover the answers.
Is Chicken Skin Keto Friendly?
Chicken skin is keto-friendly because it is rich in fat, has moderate protein, and basically has no carbohydrates.
Let's first define what ketogenic diets and low carbohydrate diets are, and what it takes for a food item to be considered keto or low-carb.
A ketogenic diet is a diet composed mostly of fats, with moderate protein and low carbohydrates. A typical ketogenic (or keto) diet would consist of 55–60% fat, 30–35% protein, and 5–10% carbohydrates (source: NIH). 
You might be thinking that 5–10% carbs seems like enough, but in a 2,000-calorie per day standard diet, that translates to half a bun of bread to one whole. 
Chicken skin is composed primarily of protein and fat, which makes it keto-friendly. An uncooked chicken skin that weighs 4 ounces (113 g) contains 10.8 g of protein, 49.9 g of fat, and barely any carbohydrates (source: USDA Food Data Central). 
Many people actually incorporate chicken skin into their keto diet. In fact, chicken skin is now made into keto chips for those who want a quick keto snack.
What about chicken skin used in cooked chicken dishes? This is also keto-friendly as you will see in this table:
| | |
| --- | --- |
| Type of Chicken Skin | Keto-friendly |
| Roasted chicken skin | ✔ |
| Rotisserie chicken skin | ✔ |
| Fried chicken skin | ✔ |
| Chicken skin chips | ✔ |
Chicken skin can be made into other keto dishes such as salads, soup, or gribenes and schmaltz. It can also be used to make bone broth, added to chicken sausage, or rendered to make cooking fat. 
Is Chicken Skin Good for a Low-Carb Diet? 
The goal of a low-carbohydrate or low-carb diet is to reduce the overall carbohydrate intake.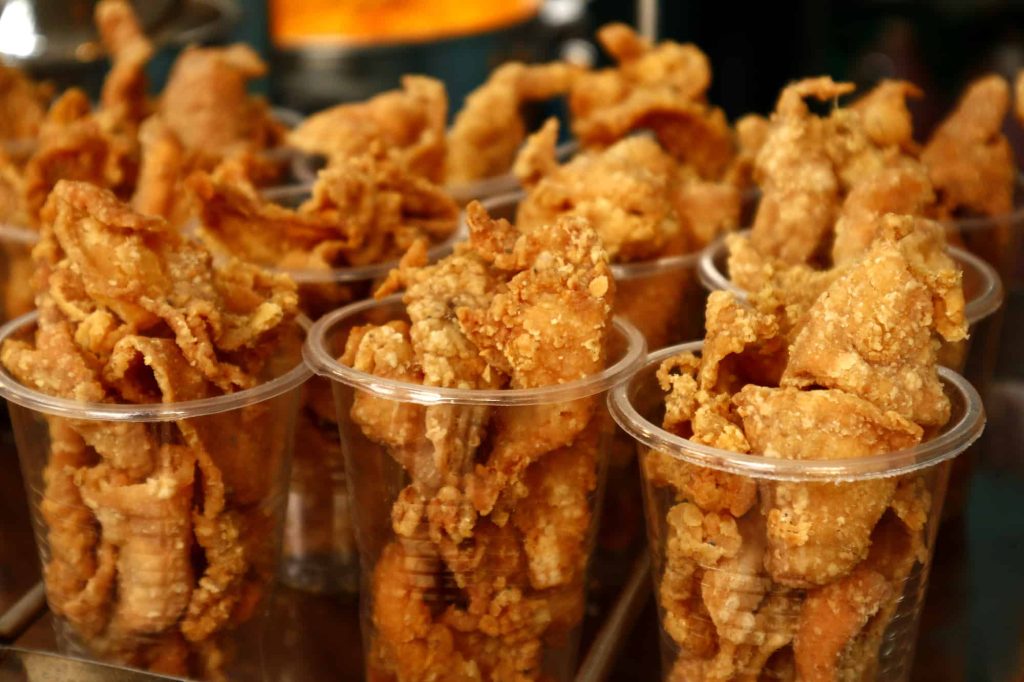 There are differing opinions as to what makes up a low-carb diet, like how much the diet will comprise of the other macronutrients (fat and protein). However, a low-carb diet is typically described as being one of two types: low carbohydrate or very low carbohydrate.
A low carbohydrate diet should contain less than 26% carbohydrates in overall intake for the day (less than 130 g/day)
A very low carbohydrate diet has less than 10% carbohydrates in overall intake for the day (around 20–50 g/day) (source: NIH).
Again, there is no clear estimate of how much protein and fat there should be in a low-carb diet because the designation is placed on carbohydrates alone.  Based on this data, a keto diet can technically be a low-carb diet. 
This makes chicken skin a good candidate for a low-carb diet because it practically has no carbohydrates.
Remember that both low-carb and keto diets might limit your intake of fiber. We recommend talking to a health professional like your doctor or dietitian if you want to start either of these diets.
Whether you follow a keto or low-carb diet, keep in mind that calorie counting will be important. This means you will need to count calories for each of the macronutrients (protein, fat, and carbohydrates).
We hope this article helped shed some light on how chicken skin fits into keto and low-carb diets!