Frozen pizza is a tasty and convenient meal. Can you make it taste even better by adding your own toppings?
You can add ingredients like bacon, cheese, pepperoni, fresh basil, bell peppers, olives, mushrooms, onion, tomatoes, arugula, and more to your frozen pizza. Just make sure you don't overload the pizza to ensure thorough cooking.
When should you add your ingredients of choice, and how much can you use? Find out below!
Can I Put Raw Bacon on a Frozen Pizza?
Yes, you can add raw bacon as a topping. Bacon will cook in the oven together with the pizza.
If you take a look at most pizza packages, the instructions say to bake the pizza between 400 °F (204 °C) to 425 °F (218 °C) for 13 to 22 minutes. This is usually long enough to cook bacon.
Bacon is made with pork. The safe internal cooking temperature of pork products like ham and bacon is 145 °F (62.8 °C) (source: USDA). This means the bacon will not only cook but may also crisp, depending on how long your pizza cooks.
Keep in mind that if your pizza already contains pepperoni, salami, or other meat products, adding bacon will make the pizza denser and greasier.
If you are watching your weight, need to cut on calories, or have been advised to eat a low-fat diet, we don't recommend adding too much.
Can I Put Fresh Veggies on a Frozen Pizza?
You can add vegetables to frozen pizza, but they may get overcooked if you leave them on the whole time. We recommend adding them halfway through the baking time to prevent them from overcooking.
Vegetables such as bell pepper, olives, mushroom, onion, sun-dried tomatoes, arugula, zucchini, and kale are excellent to add as toppings.
Fresh greens and herbs like basil, arugula, kale, and spinach are best added when the pizza is cooked and taken out of the oven. The same goes for chilies or spices. The heat from the pizza will wilt the greens after a few minutes.
Vegetables that are tougher or more solid like mushrooms, olives, and bell peppers may be added before cooking.
Make sure any vegetables you add have been washed and thoroughly dried. Otherwise, moisture might get to the crust or pool on top, giving you an overall soggy pizza.
Adding fresh vegetables and herbs will bring another layer of flavor to your pizza. You can also blend herbs with olive oil and drizzle on the pizza before serving (source: All Recipes).
Can You Add Extra Cheese to a Frozen Pizza?
Adding extra cheese never hurts, especially on pizza. However, extra cheese means more calories, fat, cholesterol, and sodium. But if this is not a concern, feel free to add some cheese.
If you are using cheese that melts easily, add it before cooking. If it's a light cheese (contains less water) like blue cheese or feta, add it after cooking or right before serving (source: All Recipes).
Cheese might affect the cooking time of the pizza if you overload it on top, but not as much as vegetables will.
If you use a melting cheese, whether processed or not, you can add quite a bit. Some good choices include American cheese, cheddar, parmesan, and mozzarella.
When to Add Fresh Toppings to a Frozen Pizza
You can add ingredients to a frozen pizza at many different times, depending on the ingredient.
You might add them before popping the frozen pizza in the oven to give them time to cook, or halfway through the cooking time. Other ingredients need to be added after baking or before serving.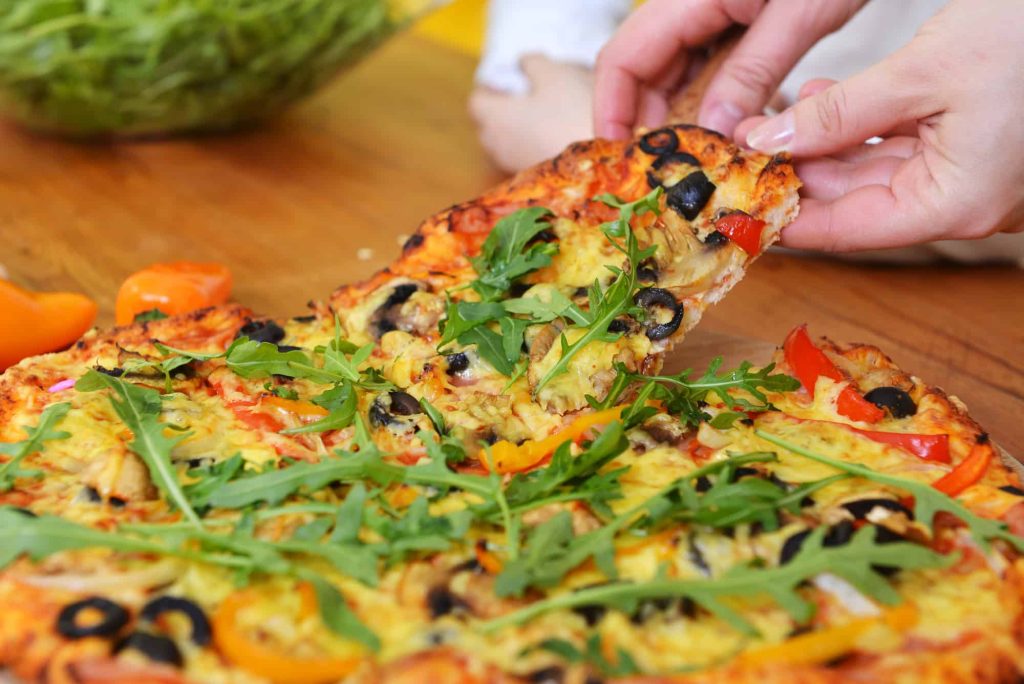 Here's a simple table to serve as a guide:
| | | | |
| --- | --- | --- | --- |
| Ingredient | Add BEFORE Cooking | Add WHILE Cooking | Add AFTER Cooking |
| Fresh basil | | | ✔ |
| Tomatoes | ✔ | ✔ | |
| Bell pepper | ✔ | ✔ | |
| Olives | ✔ | | |
| Mushroom | ✔ | | |
| Onion | ✔ | | |
| Arugula | | | ✔ |
| Zucchini | ✔ | ✔ | |
| Kale | | | ✔ |
| Spinach | | | ✔ |
| Fresh mozzarella | ✔ | ✔ | ✔ |
Just remember, don't overload your pizza with toppings in order to ensure that it cooks thoroughly. Enjoy!